Shepherds
Dale Herboldt
Dale was born, raised, and continues to live in St Maries, Idaho. Along with his wife Diane, he has six children. Dale is semi-retired. Diane serves as a nurse at Sacred Heart Hospital in Spokane.
David Bruner
David and Linda Bruner have been part of our church family since 1984. They are both retired. Their two children have provided them 5 wonderful grandchildren.
Scott Rouse
Scott is married to Karmen Rouse. They have four sons and are in their fourth decade of marriage. Scott is a master mechanic at a local car dealership.
dalton gardens church

2022-24 Deacon and Staff Ministries Areas
Buildings and Grounds
JIM KLEIN / MIKE TAYLOR / LES BIBY
—
(Support Elder: Dale Herboldt)
– Building Custodian Supervision
– Building Maintenance
– Grounds Maintenance
– Landscaping and Prayer Garden
– Parking Lot Maintenance
– Baptistery and Baptistery Garments/Towels
– Church vehicles
– Helping Hands
Helping Hands
TERRY SKINNER, WAYNE FRISBIE
—
(Support elder: Dale Herboldt)
Missions/Evangelism
ARRTY RUDE
—
(Support Elder: Scott Rouse)
– Divorce-Care, Grief-Share
– Facilitating Communication with the Following Ministries:
– Mision Para Cristo-Nicaragua
– Family Promise
– Mountain States Children's Home
Fellowship
JIM BURTON, KEITH FREDRIKSON
—
(Support Elder: David Bruner)
– Cookouts
– Special Events Fellowship
– Meal Trains for the Sick
– Funeral Meals
– Church Campout
– Frozen Fellowship
Ministry Support:
MIKE SWAIM
—
(Support Elder: David Bruner)
– Finance
– Audio-Visual/ Website
– Library
Relational Growth
DWAYNE CAMPBELL / MIKE WOOD / BOB FISH / DAN DUPEY / LARRY SLATE
—
(Support Elder: Scott Rouse)
– Men's Ministry
– Women's Ministry
– Prayer Ministry (Dan Dupey)
– LIFEgroups
– Visitation
– Widows and Widowers
– Involvement
(Bob & Carolyn Fish; Larry & Sylvia Slate will focus on Senior Saints)
Worship Support
KIRK DAVIDSON / HOWARD RUDE / GEORGE MURIITHI
—
(Support Elder: Dale Herboldt)
– Greeters and Welcome Desk
– Communion Preparation
– Serving Lord's Supper & Offering
– Bible Hour
Staff Ministries
MICHAEL LEWIS / CHRISTIAN EGGAR / RONDA DEANE
—
(Support Elders: David Bruner, Dale Herboldt, and Scott Rouse)
– Youth and Family Ministry
– Worship Planning, Worship Leading
– Preaching Ministry
– Office Ministry
– Adult Education, Children's Ministry
– Advertising
– Message Sign Content
– Coordination of Community Outreach Events:
– Food Drives
– Newby Ginnings
– Summer Spectacular
– Mobile Missionary Force
– Local Benevolence, Cardwell Food Pantry
(The elders provide for the special benevolence needs of our members)
Michael Lewis
Senior Minister, and Teacher of the Word
Michael has served the church family for nearly two decades, under the guidance of the shepherds. He proclaims and teaches God's Word, while also serving as the day-to-day administrator for the congregation. He holds degrees from York College, Abilene Christian, University of Nebraska, and a doctorate from the University of Oklahoma. His wife Carmen and he have three children and eight grandchildren.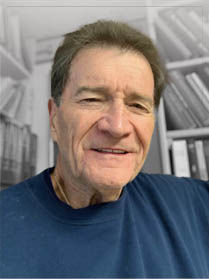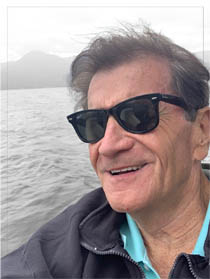 Christian Eggar
Youth and Worship Ministry
Christian graduated for York College, with a degree in Bible and Youth Ministry. Christian grew up in Montana and loves the Great Northwest. His dad is a preacher and his parents, life-long ministers. Christian has two brothers and two sisters.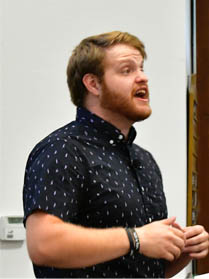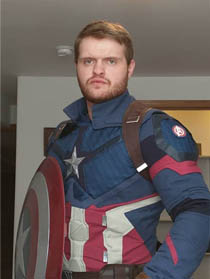 Ronda Deane
Office Ministry
Ronda has been married to Scott for 40 years. They have 3 children and 3 grandchildren. She loves being the Jill of all trades in the church office!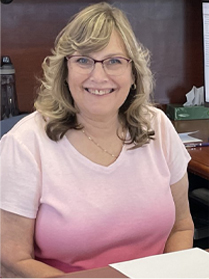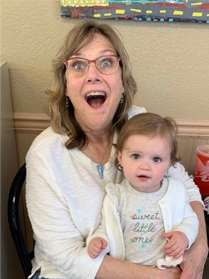 SANDRA WELCH
Building Ministry
Sandra has a special gift for keeping our church building running smoothly. She is the mother of two and grandmother of three.